---
Stereo Sound Magazine – Le Son Interview
Stereo Sound Magazine: Information & Detailed Reviews of High-End Audio Products
---
Introduction
As an introduction to the outstanding publication company, we will just state here their corporate philosphy:
"To the extremity of emotion"
The wonderful world of hobbies gives so much courage, vitality and hope in all aspects of life.
We aim to be a "concierge role" for those who pursue their hobbies not as mere tools, but as food for life and spiritual culture.
We will continue to evolve as a "specialized group" that provides encounters with hobby products and taste products that enrich life and living.
From now on, we will continue to walk together with all the enthusiasts towards "the extreme of excitement".
Meeting with Le Son
During the launch of the LS10 Cartridge at the Shanghai International Hi-Fi Show in October 2020, Le Son Co-Founders met Zhang Guoliang, the Editor-in-Chief of Stereo Sound Magazine.
Mr. Zhang showed great interest in the sound of the room, and Gregory de Richemont entrusted one LS10 cartridge to him for testing purpose.
Later on, Mr. Zhang introduced the LS10 cartridge to his audiophile circles, and received excellent feedback. He therefore decided to conduct a full interview of Gregory de Richemont, which was published in the issue 215 of Stereo Sound Magazine.
Here is the highlight of Mr. Zhang's feedback about the LS10 Cartridge:
"For demanding audiophiles like us, the Le Son LS10 cartridge strikes a remarkable balance, and elevates the vinyl listening experience to new heights."
Stereo Sound Magazine:
Le Son Interview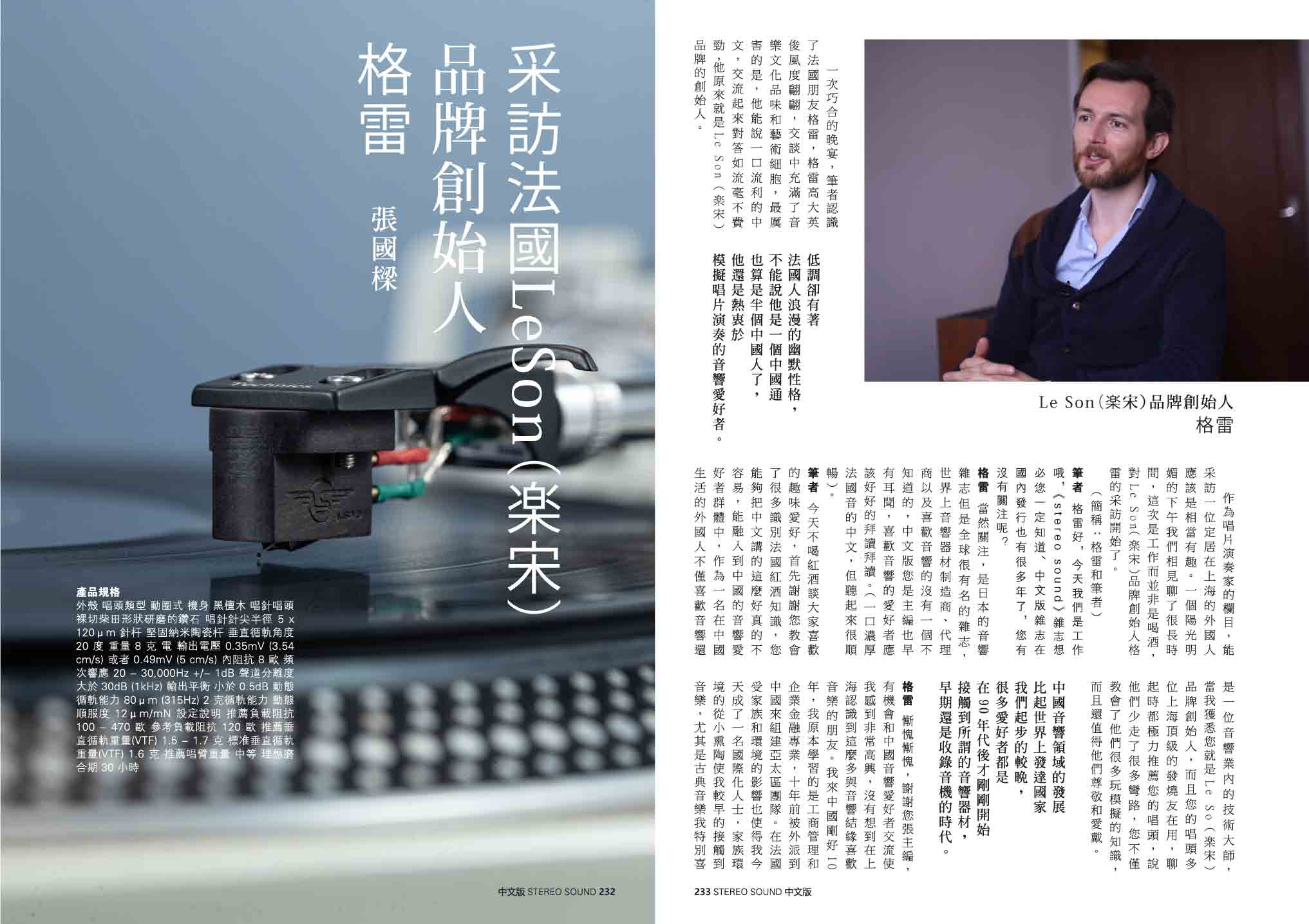 Interview with Gregory de Richemont, founder of the French brand Le Son (楽宋)
Author: Zhang Guoliang
­
I met my friend Gregory de Richemont for the first time at a casual dinner. Gregory is tall, handsome and elegant. He is low-key and has the romantic and humorous character of the French. Most importantly, he is an audiophile who loves analog sound and he can speak good Mandarin, so we could communicate easily. He turned out to be the founder of Le Son (楽宋).
As an editor, I was quite interested to interview a foreigner living in China for a long time. We met and chatted on a sunny afternoon. This time it was work rather than wine tasting together. The interview with Gregory, the founder of Le Son (楽宋) began.
(Abbreviations: Gregory and Guoliang)
­
Guoliang:
Hello Gregory, unlike our last dinner, today we will talk about work. You may know that Stereo Sound magazine has been published in China for many years. Are you aware of it?
Gregory:
Of course, Stereo Sound is a top notch Japanese magazine specialized in high-end audio. It is highly regarded worldwide. All audio equipment manufacturers and distributors know about it, and audiophiles love to read it (he speaks Chinese with a strong French accent, but it sounds smooth).
Guoliang:
Following our last dinner, I would like to thank you for teaching me new things about French wine. It must require a lot of effort for you to speak Chinese and be willing to integrate into China's audiophile community. I learned that you are the founder of Le Son brand (楽宋), and several top audiophiles in Shanghai are using your phono cartridge which is a hot topic within the community these days. The audiophiles I talked to highly recommend your MC cartridge, saying that it is spot on. They also said you have taught them a lot about analog sound, and gained their respect and love.
Guoliang:
Thank you editor-in-chief Zhang, I am flattered and very happy to have the opportunity to communicate with audiophiles in China. I have been living in Shanghai for 10 years now. I originally studied business management and corporate finance, and was sent to China in 2011 to form a team in the Asia-Pacific region.
My parents exposed me to high-fidelity music reproduction quite early, and especially to vinyl records, which is why I am particularly fond of analog devices. I quickly developed a passion for music and hi-fi, which is still vivid today. In France, even though digital music became mainstream, vinyl never disappeared completely. It is a niche that in my opinion will last a long time.
As an audiophile, I spent a lot of energy and time on improving my sound system. I discovered the paramount importance of the phono cartridge when playing vinyl records. And after trying many cartridges that would not satisfy me completely, I decided to develop and manufacture my own.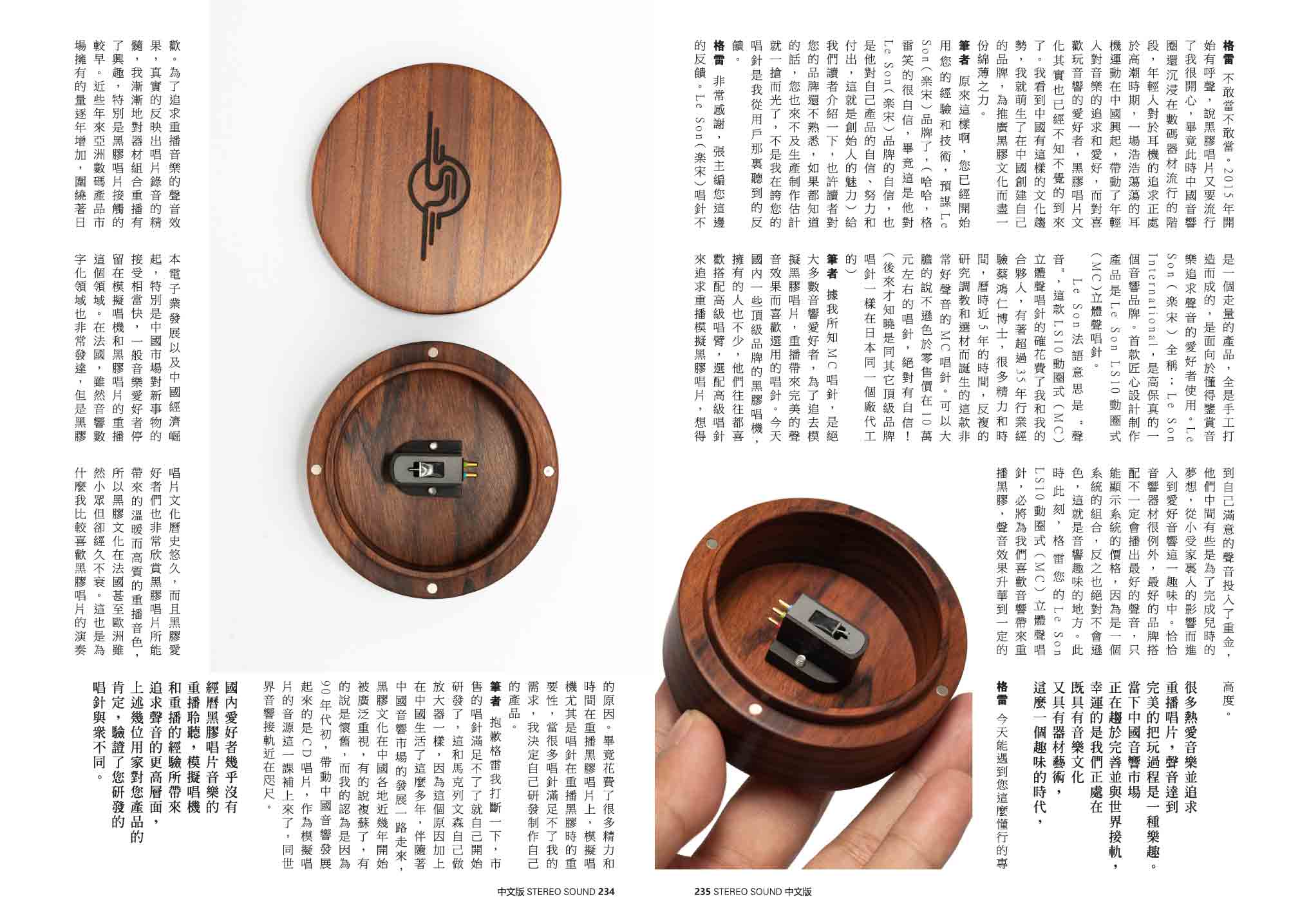 Guoliang:
Sorry for interrupting, Gregory. You started researching and developing a phono cartridge by yourself as those commercially available cartridges could not satisfy your needs. Isn't it the same as Mark Levinson making his own amplifier?
As you have been living in China for so many years, you probably have witnessed the development of the Chinese audio market. Since the early 1990s, Chinese audio is driven by CD records, but discerning audiophiles understood the original source of great recordings is often analog. The vinyl culture has been widely growing throughout China in recent years. More and more audio enthusiasts pursuing the best sound quality are turning to analog sources like vinyl. And as I mentioned before, several members of the audiophile community found your phono cartridge to be unique and remarkable.
Gregory:
Oh I dare not be compared with Mark Levinson! Yes I witnessed the growing interest for vinyl records in China, and I feel great about it. The Chinese audio industry is still mainly about digital equipment, young people listen to a lot of music and their interest in headphones is at a climax. The vinyl record culture is still rather subtle, but steadily growing. It gave me additional confidence to create my own brand and promote the analog sound culture in China.
Guoliang:
So it seems you have great plans for Le Son brand (楽宋)! (Gregory smiles with the confidence of a proud founder). So please tell our readers about your brand, as they may not be familiar with it. Because if they are, your cartridge will be so popular that you won't have enough time to meet the demand according to the feedback I received from current users.
Gregory:
Thank you very much for your recognition, Editor-in-Chief Zhang. Le Son (楽宋) does not produce for the mass market. Our products are hand-made, and aimed at audiophiles who know how to appreciate music and pursue high quality sound. Our first flagship product is the LS10 Moving Coil (MC) Stereo Cartridge.
Le Son means "The (Absolute) Sound" in French. The LS10 MC Cartridge cost me and my partner Dr. Ted Tsai more than 5 years of energy and efforts. This cartridge was crafted through relentless research on tuning and selection of materials, and I am quite confident to say it can compete with the best high-end cartridges available today. (Later on, I learned that the LS10 cartridge stylus is made in the same Japanese factory as other top brands styli).
Guoliang:
As far as I know, MC cartridges are the ones most audiophiles like to use in order to get the best out of their vinyl records. Today, many people own some of the top turntable brands in China. They often like to match their high-end tonearms with top-of-the-line cartridges, and they are willing to invest heavily +to get satisfying sound. For many of them it is fulfilling a childhood dream, and a way to influence their family members to enter the audiophile world.
However, and this is specific to audio equipment, the combination of the best brands will not necessarily render the best sound. In other words, having the most expensive equipment does not mean it will sound the best. This is what makes high-end audio so interesting.
For many audiophiles, the quest towards the perfect sound is a real enjoyment. At present, China's audio market is becoming more mature and in line with other countries. We are fortunate to live an interesting era with access to a profusion of music and great audio equipment. In this setting and using the words of my top reviewers : for demanding audiophiles like us, the Le Son LS10 cartridge strikes a remarkable balance, and elevates the vinyl listening experience to new heights.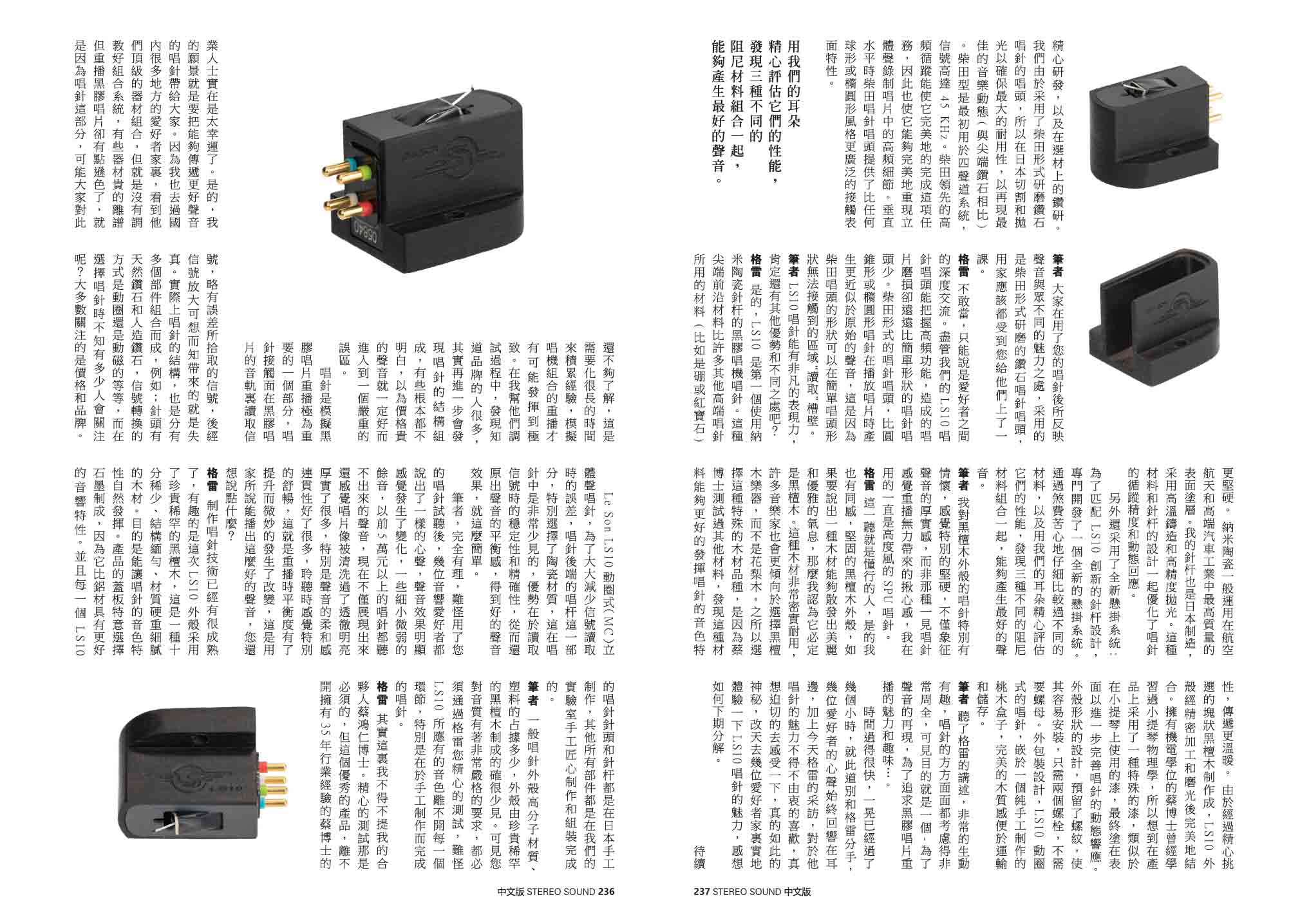 Gregory:
I feel lucky to meet a person like you who knows the industry so well. Yes, my vision is to bring a cartridge that can deliver a better sound to people who want to fully experience their music recordings. I have been to many audiophile homes in China and heard their high-end systems. As you mentioned, the analog sound systems were often extremely expensive but not delivering a compelling sound. For turntables in particular, the recurring problem was a cartridge misalignment. Most people don't know how to setup and fine tune a tonearm / cartridge assembly, as it takes a long time to accumulate the required experience. People buy an expensive cartridge based on the brand name, but they don't really understand which cartridge is suitable for their system. So yes, people often have the wrong perception that the more expensive cartridge will always deliver a better sound.
The cartridge is the most important link during a vinyl record replay. Any information lost or distorted when the stylus reads the record is so forever. And each part of the cartridge influences the sound quality. For example, a stylus tip can be made of natural or artificial diamond, the signal conversion design can be moving coil, moving magnet, and so on.
The LS10 MC Cartridge features for the first time in the world a nitride boron ceramic cantilever, which greatly enhances the accuracy of information transfer from the grooves to the coils. The benefit is a clear improvement in the sound.
Guoliang:
It totally makes sense. No wonder that after auditioning your cartridge, the reviewers felt the sound had obviously improved. They could hear some micro-details that cannot be heard with their reference cartridge they had paid more than 50,000 CNY for. With your cartridge and besides these improved micro-details, the reviewers felt the sound is more transparent and vivid, with a smoother and more coherent quality. They felt particularly comfortable when listening. They all agreed that your cartridge delivers a better sound. Can you explain further about this?
Gregory:
Before the selling price, it is about finding the right alchemy between components. The LS10 cartridge body is made of ebony wood, which has a very dense and uniform structure. The purpose is to make the cartridge's timbre characteristics sound natural. The plate is made of graphite for its better acoustic characteristics than aluminum.
Guoliang:
In general, a phono cartridge body is made of polymer material, and plastic is common. A body made of ebony wood is indeed rare to see. I could read you also have very strict requirements for sound quality, and you personally listen to each LS10 cartridge before making it available.
Gregory:
Yes, final testing by the same person is important. I would also like to praise my partner Dr. Ted Tsai, who has 35 years of experience in the high-end audio industry. Without his extraordinary dedication to the research and development of innovative material combinations, the LS10 cartridge would not sound as beautiful.
The LS10 MC Cartridge features a nude Shibata stylus, cut and polished in Japan. A nude stylus reduces the moving mass of the cartridge, hence optimizes the transcription of music dynamics compared to bonded styli. The Shibata stylus shape was originally developed to accurately track the high-frequency information on quadraphonic records (up to 45 kHz) without wearing them out. Regarding the cartridge suspension, we found by ear that the combination of three different damping materials would deliver the best sound.
Guoliang:
The owners and reviewers of your cartridge have provided feedback that the sound is exceptional, I believe you have taught them about the Shibata diamond shape.
Gregory:
Haha it is not really a lesson, it is more an open discussion with customers who are interested in knowing about the cartridge design details. The contact area between the Shibata stylus and record grooves is optimum, and therefore causes less record wear than simpler shapes. Furthermore, a record which has been worn with a conical or elliptical stylus, when played with a Shibata stylus, can result in near pristine sound. This is because the Shibata shape can "read" the groove walls in areas that were never in contact with the simpler stylus shapes.
Guoliang:
Understood, and what else makes the LS10 unique compared with other cartridges?
Gregory:
The LS10 is the first phono cartridge featuring a cantilever made of nitride boron ceramic. This cutting-edge material is lighter than materials used in traditional high-end cartridges, like carbide boron or ruby. This material and the design of the cantilever together optimize the tracking accuracy and dynamic response of the cartridge.
Guoliang:
I have a soft spot for a cartridges with a wooden body. They deliver a solid sound free from any harshness. I still use and love the high-end Ortofon SPU Wood cartridge.
Gregory:
I am glad you know about it! Yes, I also feel the same. And for me if there is one wood that exudes beauty and elegance, it would be ebony. This natural material is dense and durable, and some musicians prefer it over rosewood for their instruments. Dr. Tsai and I tested many materials and found that ebony wood delivers a warmer and almost organic sound.
Dr. Tsai, who has a PhD in electro mechanics, also studied violin physics. So he thought of applying a special varnish on the cartridge body – similar to the ones found on violins – to further improve the dynamic response of the cartridge. The LS10 cartridge body is precisely pre-threaded, enabling an easy installation and alignment with just two bolts – no nuts required.
Guoliang:
Listening to Gregory's description was very lively and interesting. All aspects of the cartridge were carefully considered to serve the initial objective: a faithful sound reproduction to fully enjoy the charm and fun of the vinyl record experience…
­­
Time flies, and several hours have passed by in a flash. I said goodbye to Gregory. With the voices of several fans echoing in my ears together with Gregory's interview today, I am deeply intrigued by this "mysterious" cartridge and eager to hear it myself. I will find time to experience the LS10 MC Cartridge at the homes of a few audiophiles, and share my review in the next issue.
---
Copyright © 2015 – 2023 Le Son International
---
Category

News
---