Sleeveface Photos – The 20 Best Record Art Shots Since 2008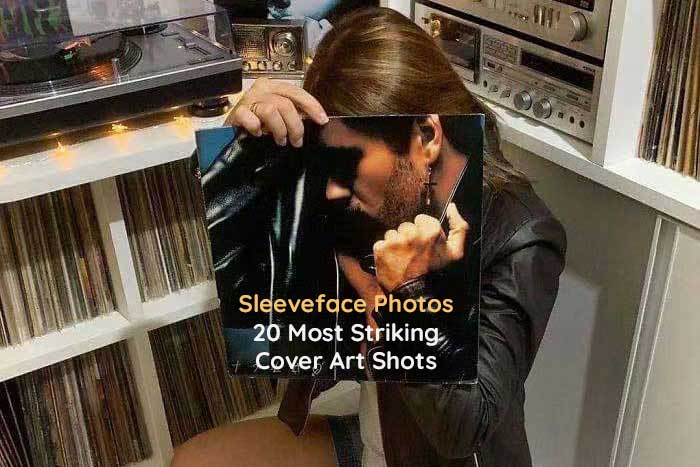 Sleeveface Photos:
Introduction
Sleeveface Photos, also known as LP Portraits, are a picture meme in which a vinyl record sleeve is placed in front of one's face and a profile shot is taken, revealing a "hybrid face" of the subject and the artwork featured on the record sleeve.
This practice became a real fad in 2007, and what is left today is thousands of photos available on different online platforms.
---
The
20 Best Sleeveface Posts
Along the years, I have collected lots of cover art illusion memes I came across on the internet.
So today, you can explore the 20 best sleevefaces we've chosen with a few friends from among these remarkable images:
John Cassavetes – Staccato
---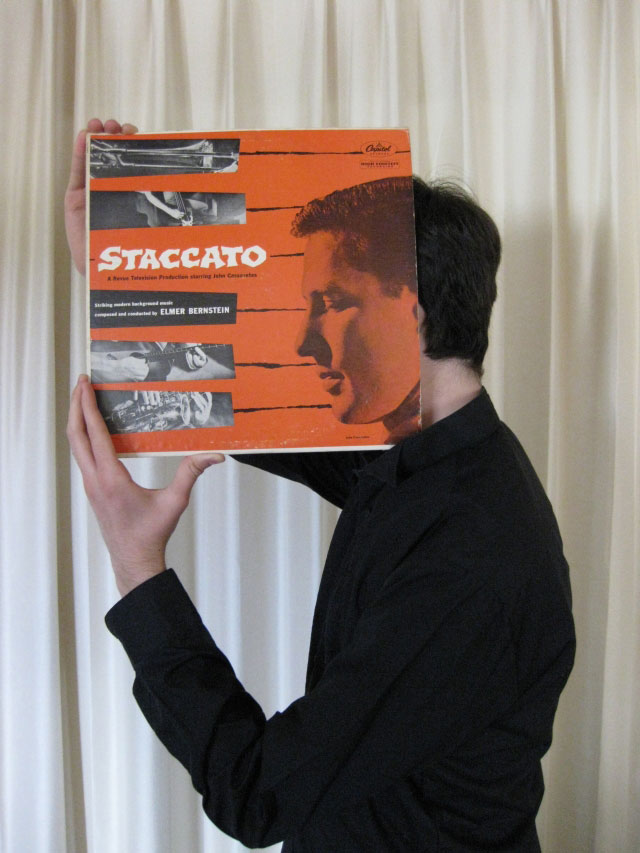 ---
Credit

: Anny Celsi, Nelson Bragg, and Ivan Pyzow.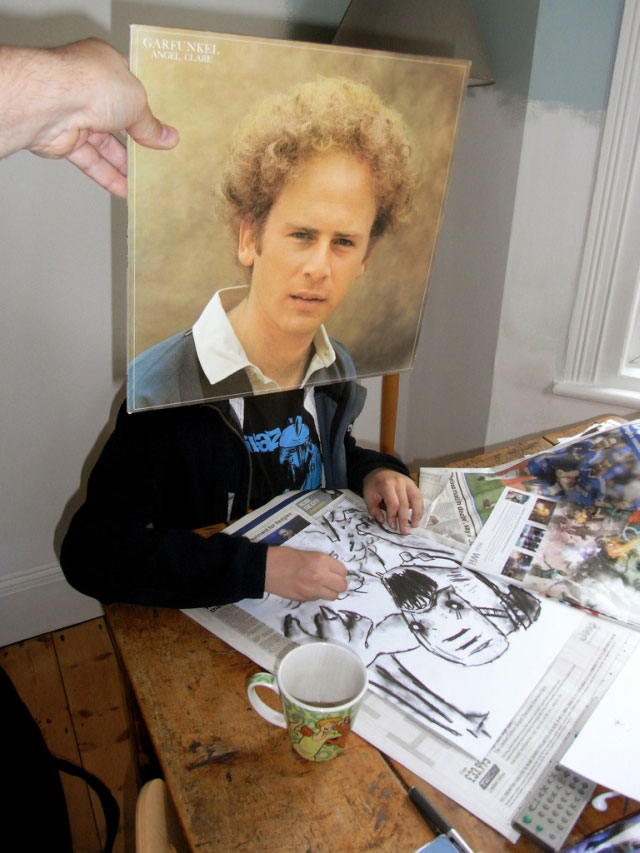 ---
Credit

: Christophe Gowans.
Electric Light Orchestra – Discovery
---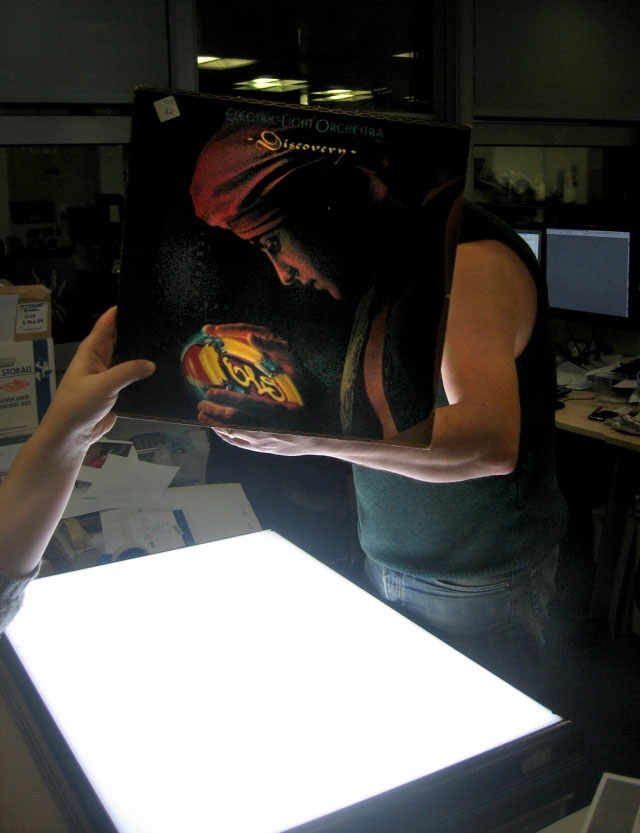 ---
Credit

: Christophe Gowans.
Freddy Mercury – Mr. Bad Guy
---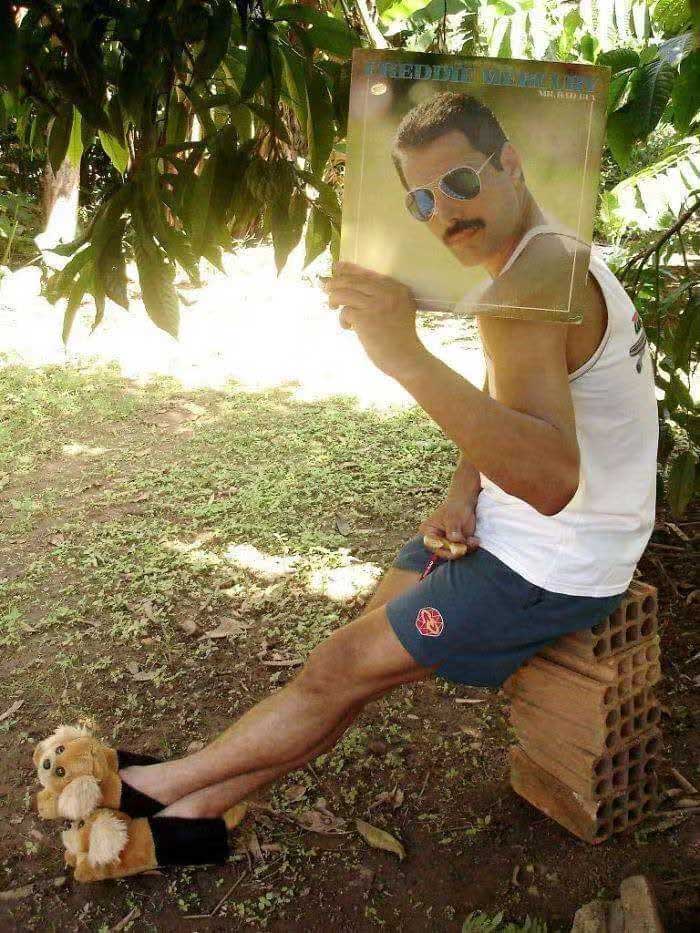 James Taylor – Never Die Young
---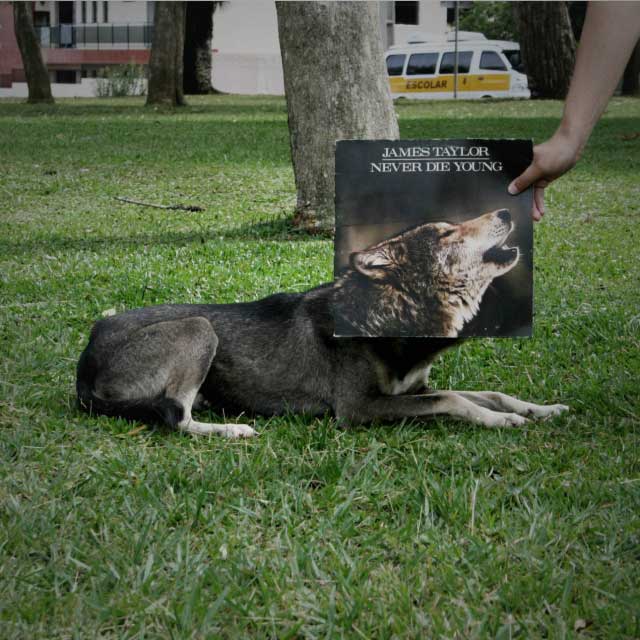 ---
Credit

: André Bonsanto, Grazieli Eurich, Fabio Ansolin, Mauricio Toczek, Maicon Ambrosio and Gabriel Junqueira (Unicentro, Brazil).
Miles Davis – Miles Davis (Amiga)
---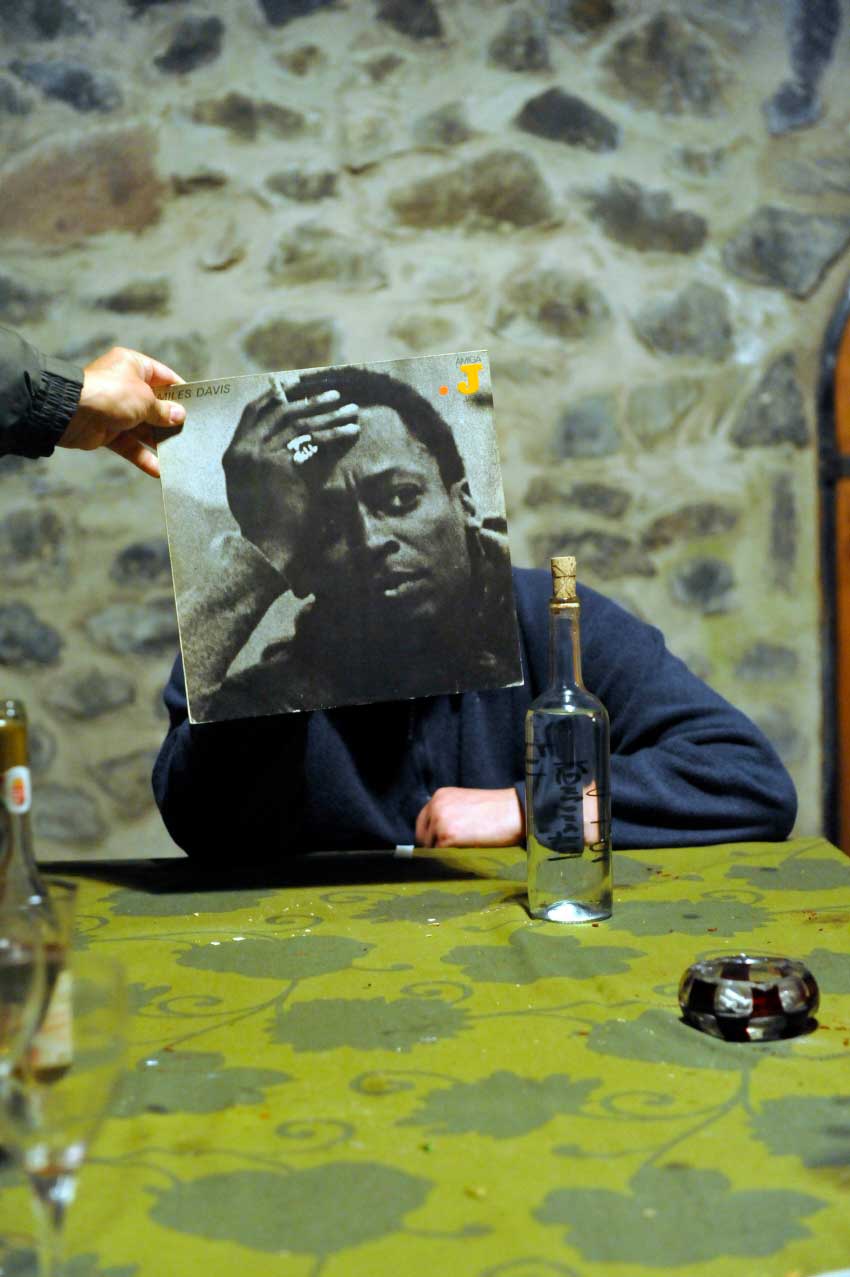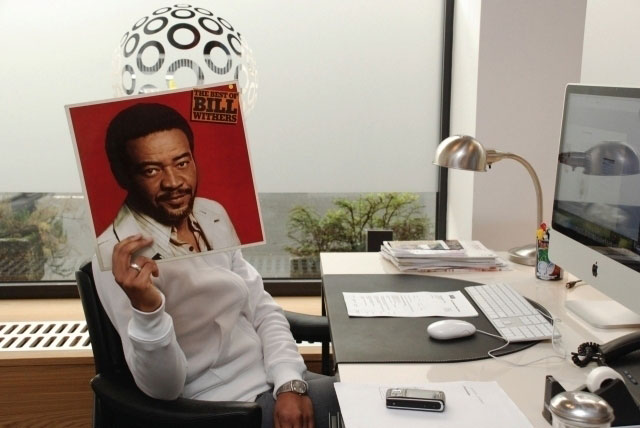 ---
Credit

: Kommunikation Lohnzich.
La Roux – I'm Not Your Toy
---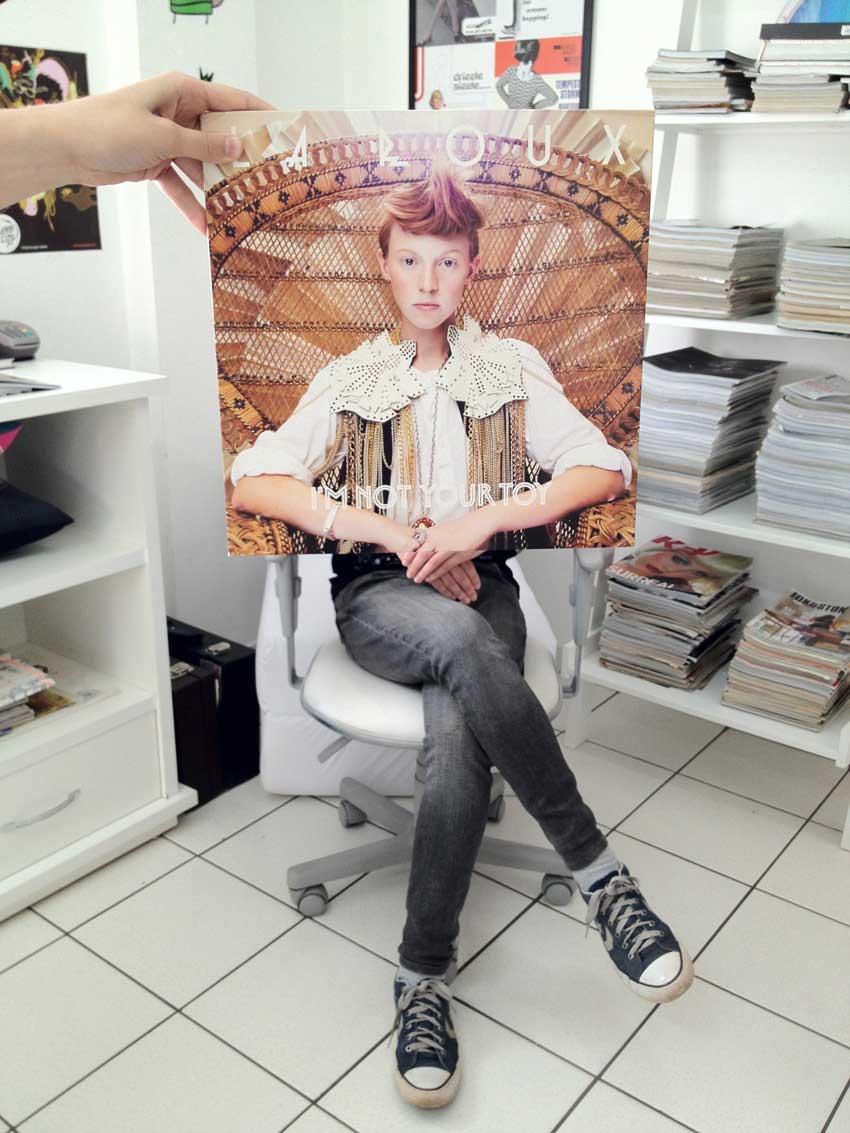 ---
Credit

: Marcio Reverbcity.
The Very Best of Elton John
---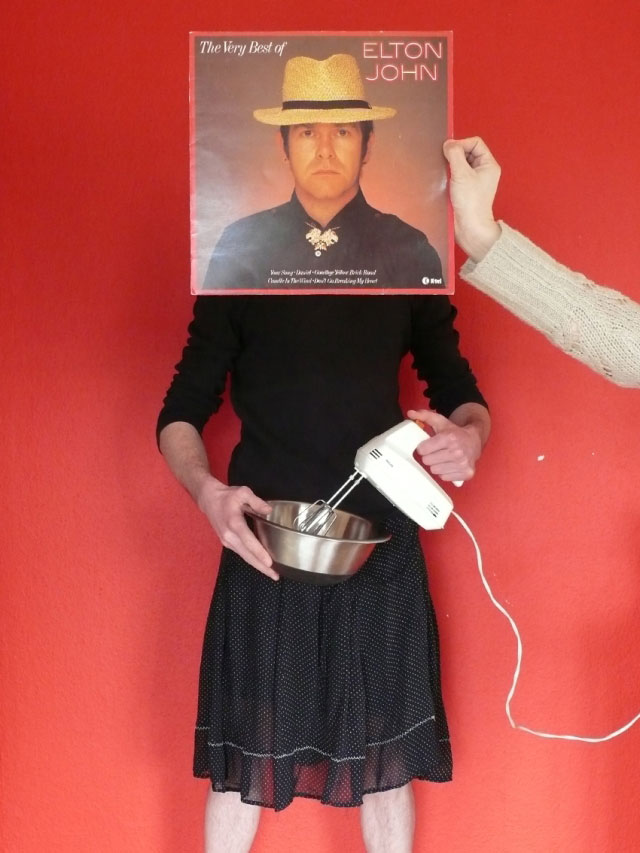 ---
Credit

: Matthias and Mrs K.
Harry Belafonte – An Evening With Belafonte
---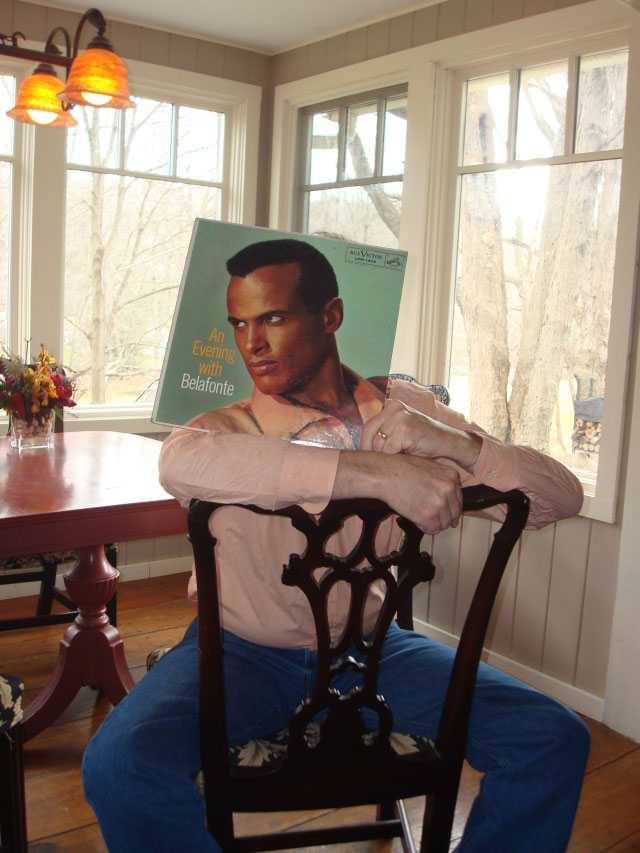 ---
Credit

: Nathan Rosen & Jeanne Azzerone.
Françoise Hardy – Françoise Hardy
---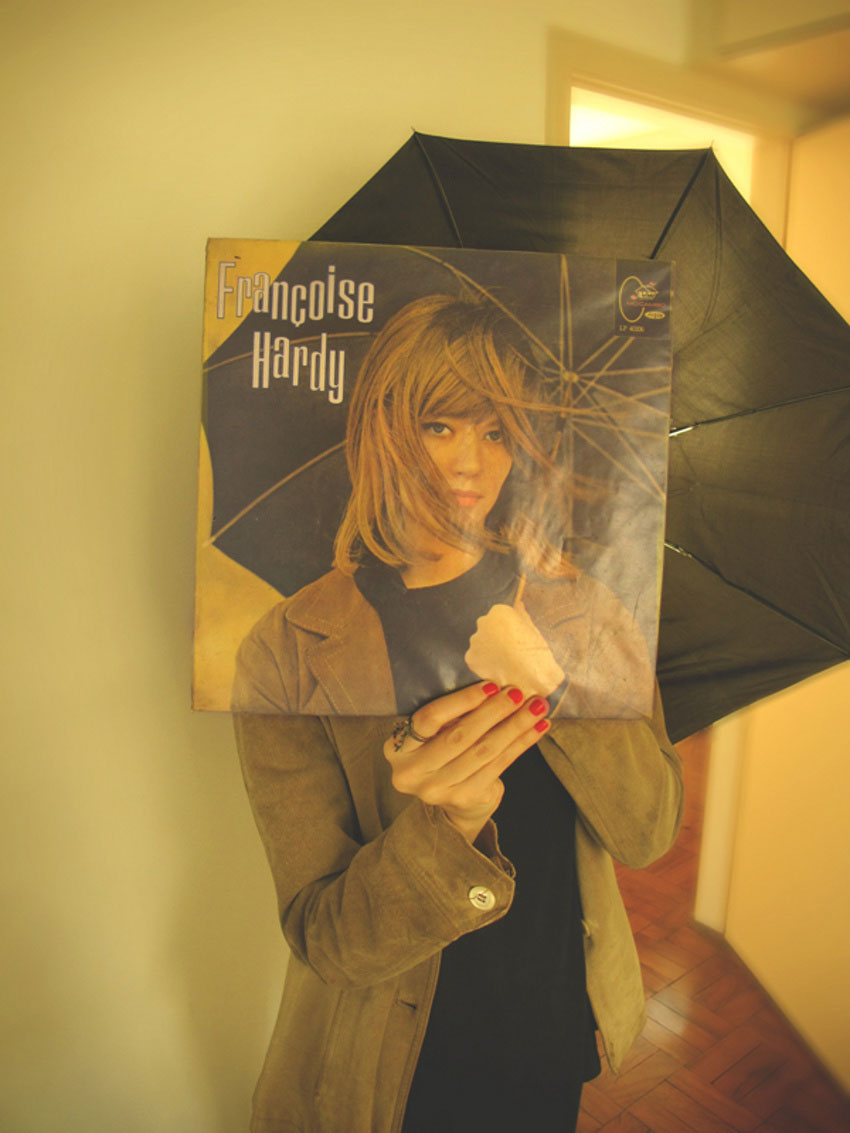 John Farnham – Whispering Jack
---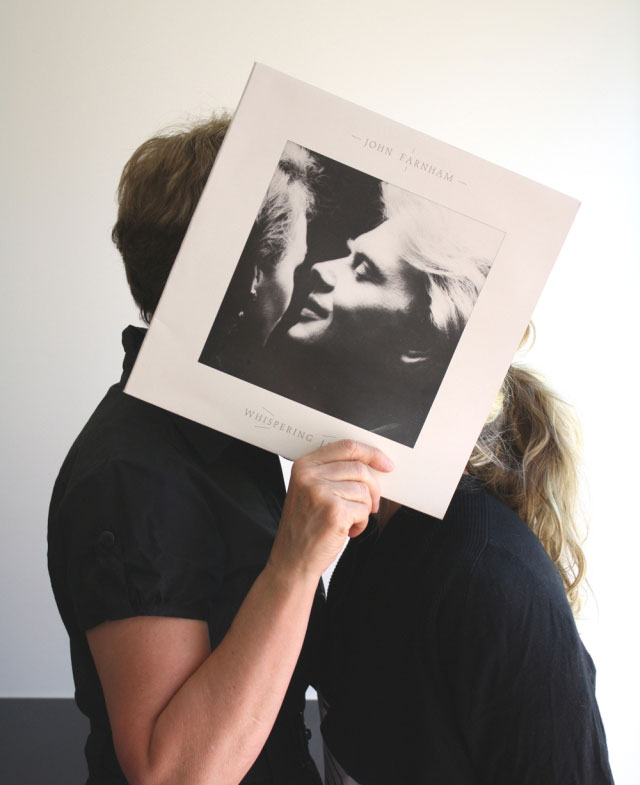 ---
Credit

: Paul and Sonia Child.
Charlie Rich – Behind Closed Doors
---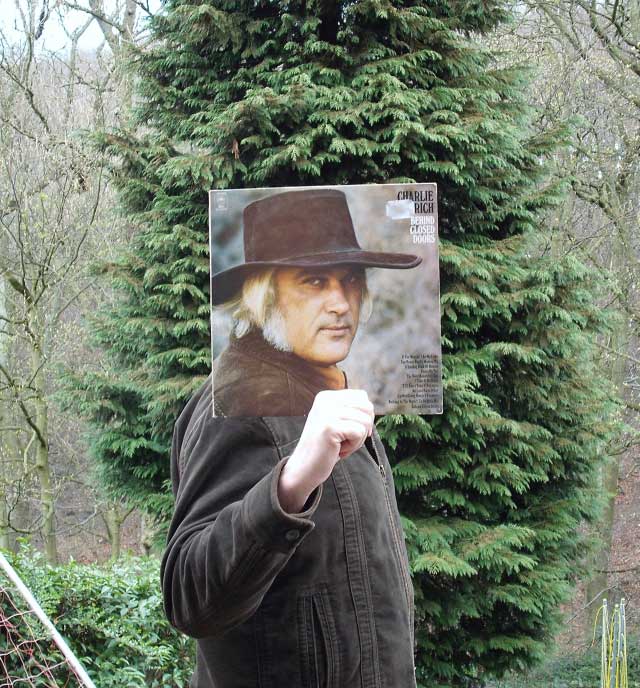 Nancy & Lee – Nancy & Lee
---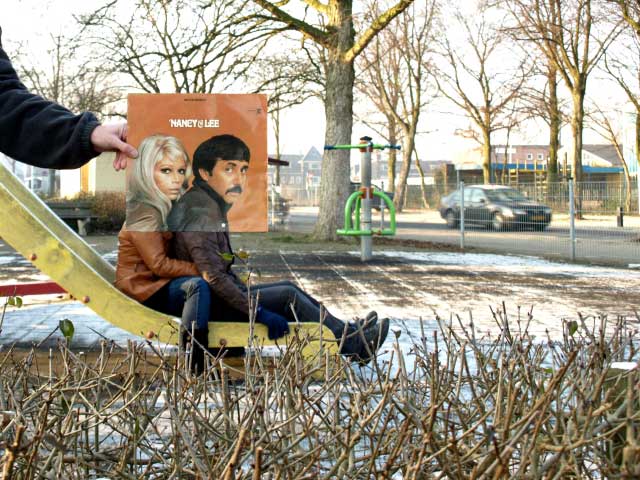 ---
Credit

: Quint Kik & Eric Walet.
Mireille Mathieu – Bonjour Mireille
---
Udo Lindenberg – Daumen Im Wind
---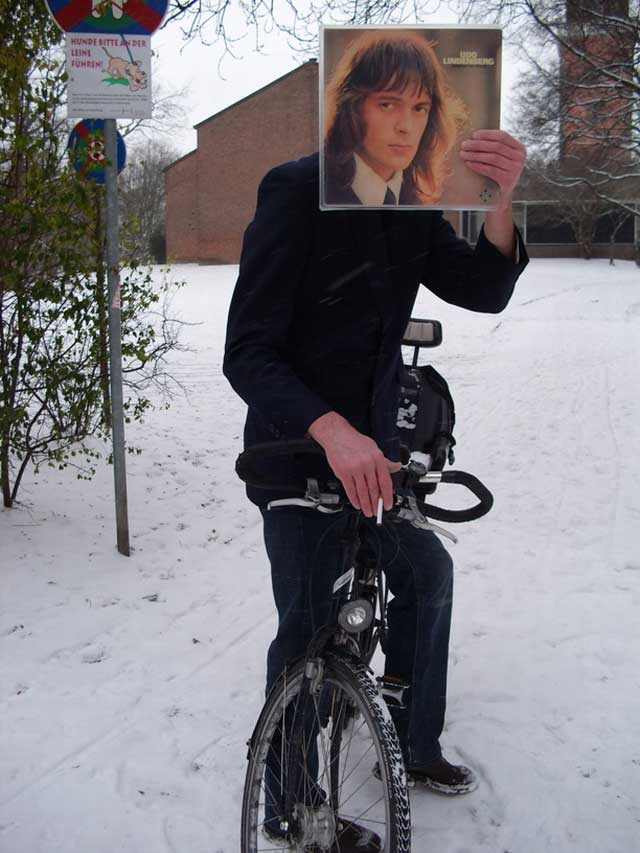 ---
Credit

: Till Hogrefe & Tanja Brinker.
Frank Zappa – Sheik Yerbouti
---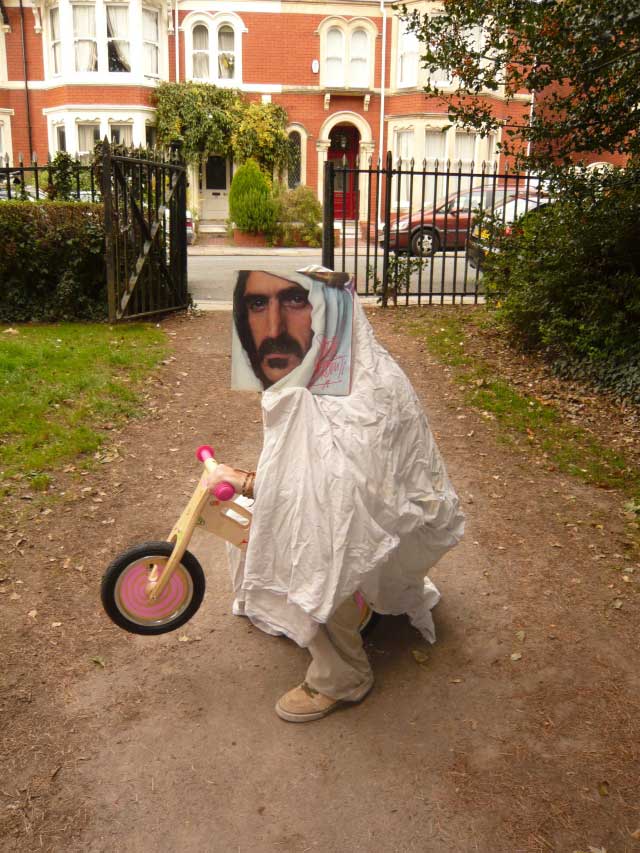 Ramones – End Of The Century
---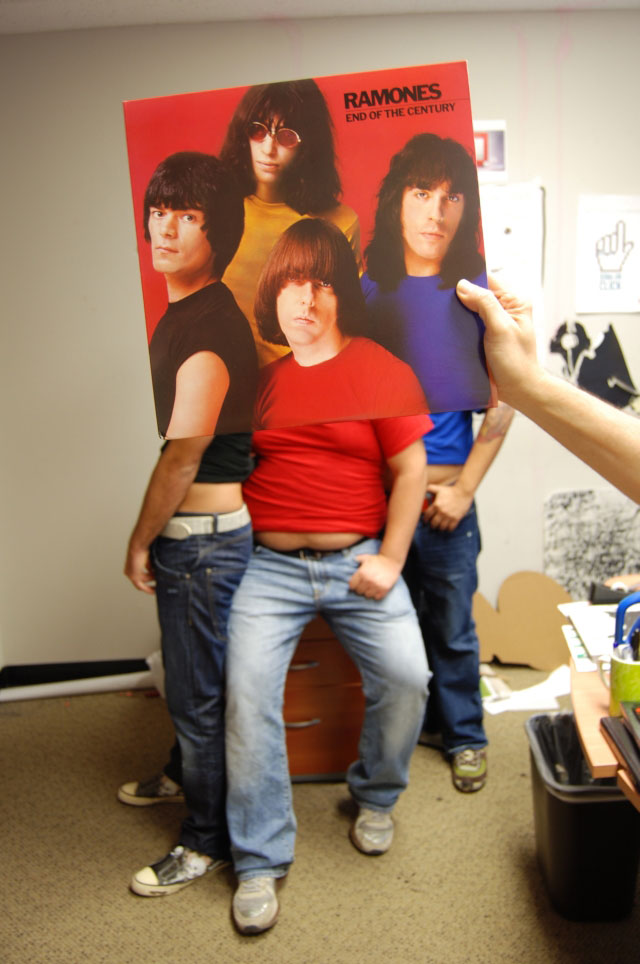 ---
Credit

: Víctor Cabezas, Manolo Martínez, Facundo Ramone, and Michael Ramone.
Bob Dylan – The Times They Are A-Changin'
---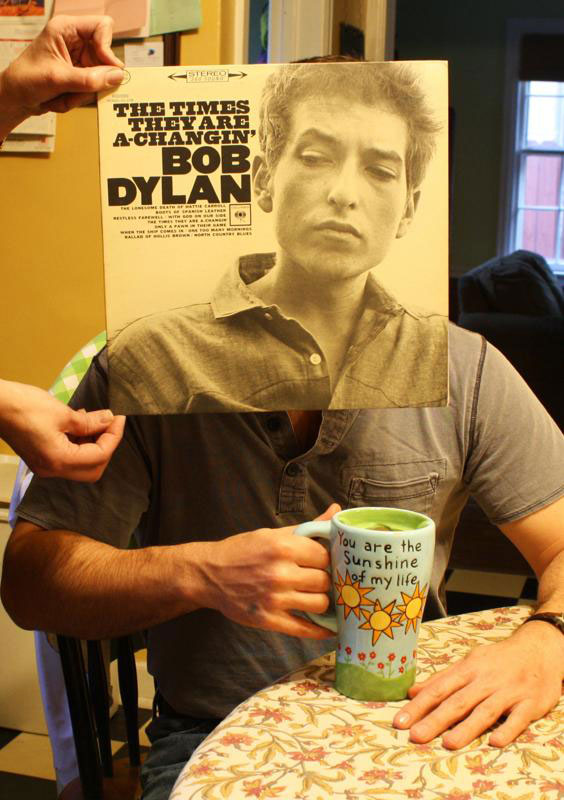 ---
Credit

: William Petrovic.
---
More About

Carl Morris and the Sleeveface Phenomenon
Welsh DJ Carl Morris invented the name "Sleeveface" in April 2007, when pictures were taken of him and his friends holding record covers to their faces while DJing at a bar in Cardiff, UK.
Then, his friend John Rostron placed the photographs online and started a Facebook group, and it quickly became viral.
The precise origin of the concept, however, is unknown. Prior to the release of Sleeveface, Swedish filmmaker Daniel Eskils posted multiple sleeveface-style pictures on the Waxidermy forum in 2006.
The act of covering one's body part with an album sleeve has previously been seen in album covers, with the oldest example being the cover art of John Hiatt's 1979 album "Slug Face" where he is pictured holding a sleeve in front of his face. A similar concept was employed for Huey Lewis and the News' 1982 album "Picture This," as well as cover art collages by visual artist Christian Marclay, whose work dates back to the early 1990s.
The phenomena of sleevefacing quickly attracted the attention of mainstream media sources and influential tech blogs such as BBC, and The Guardian, among others, in late January 2008. The craze spread to photo-sharing groups and social networking sites such as Flickr. The official Flickr group has over 4,000 picture entries as of January 2023.
---
The Website and

The End of The Sleeveface Fad:
In late 2008, John Rostron and Carl Morris released the book "Sleeveface: Be the Vinyl", which features a collection of pictures from around the world.
According to Wired Magazine, the book's distribution sparked some anxiety about the commercialization of a common culture.
Besides this commercial attempt, one can browse thousands of pictures on their official website.
---
---
Copyright © 2015 – 2023 Le Son International
---
If you like this post, feel free to share it! This blog is about love for music & analog sound, and is meant to be resourceful and interesting for people along their audiophile journey